If you want to get more customers and make more money, you need to get your business on Google free business pages.
That's where most of your potential customers will first learn about you, and that's where Google will begin to rank you in search results.
But getting on Google's free business pages isn't easy – it requires a lot of hard work and dedication. Fortunately, we can help. Over the past decade, we've helped thousands of small businesses get their names and logos on Google's free business pages. We'll help you too.
According to Forbes, Google My Business (GMB) is no longer optional — it's an essential part of any business's online presence and often the first place customers look for up-to-date information about your company. In the age of Covid-19, this is more true than ever. 
Luckily, thanks to GMB, several small companies continue to revolve around the US after having a massive breakdown of 31% in the country due to the pandemic.
Through the help of GMB, 64% of consumers look for a business's Google My Business page for contact information (BrightLocal, 2020) resulting in the business gaining warm leads – even without a website.
Now let's get to the good part, here you distinguish what is all about the GMB and what is not. So, what exactly Is the Google My Business business page for?
The Google My Business is a listing on Google's main platform where you can add the basic information about your business. This includes your name, logo, main phone number, and website. It's a simple way to build your online presence without having to spend a lot of time or money on a website. It's also a great way to connect with your customers and gain their trust.
Google My Business and Google Maps can both create Google My Business listings to help bring customers to your business. When you view your business on Google, you will notice both Google My Business and Google Maps listings.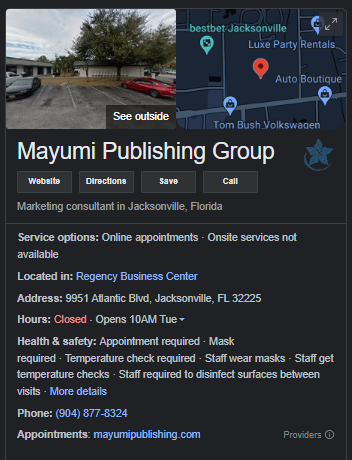 Go to your business's home page and select the My Business tab.

On the right-hand side menu, choose to Create a listing.

Make sure to include a solid description and that all of the necessary information is picked.

Give your listing a name and a category. Your listing will be live on the web once you click Create a listing.
Here's how Google recommended to improve and optimize your local ranking
Update your business info for better visibility

You might discover that local searches for relevant terms don't provide results for your company. Make sure the content in your business profile is correct, full, and interesting to increase the likelihood that users will find your company in local search results.

Enter complete data

For each search, local results favor the most relevant results. When conducting the appropriate searches, it is simpler to match businesses with complete and accurate information. Disclose information including but not restricted to (Physical address, Phone number, Category, and Attributes)

Keep your hours accurate

Regularly update your opening and closing times as well as any additional hours for holidays and special occasions. Give customers trust that your business will be open when they arrive by providing accurate hours information that lets them know when you're available.

Manage & respond to reviews

User comments on reviews of your company should be addressed. Responding to reviews demonstrates to customers how much you appreciate their opinions. The likelihood that a customer will visit your establishment can be increased by receiving high-quality, favorable reviews from your clients.

Add photos

Add images to your Business Profile to show off your products and services and to convey the story of your company. Attractive and accurate images can also demonstrate to customers that your company has what they're looking for.

Relevance, Distance, Prominence

Add images to your Business Profile to show off your products and services and to convey the story of your company. Attractive and accurate images can also demonstrate to customers that your company has what they're looking for.
Creating a Google + business page:
Your Google + business page can be used for Google + business listings, Google map listings, listing your business on Google My Business and GMB. Creating a GMB business page is helpful if you want to make your business as an independent business listing. You need to create a GMB listing separately.
To create a Google + business page, you have to click on the business listing tab on the dashboard.
Click on the Create business page in the menu. You will be asked to confirm the business page with a good business name. If you have more than one business with the same name, select the business whose listing is the leading business page of your business.
When you create a GMB listing, you can select the 'small business' category from the drop-down menu. Click the Create Business Page button.
Finding the +business page on Google My Business is the first step in creating a GMB business page.
Go to the dashboard and click the Add Business Page link if you have another listing.
Click the Create Business Page button after entering the brand names as the business page description.
Once you click the Create Business Page button, your GMB business page will be live.
For this tutorial, you will create a GMB business listing. The Google + business page will be your first business page.
Conclusion
Google + business pages can be considered the first step to getting your business listed on Google +. Create more GMB business pages to improve your search engine results and submit a Google + business page to get your business ranked for your intended search term.
If you're looking for more and would like some assistance. Our company provides a free consultation to help with your concern and you may also want to visit our website! We will be happy to help you with any of your concerns.