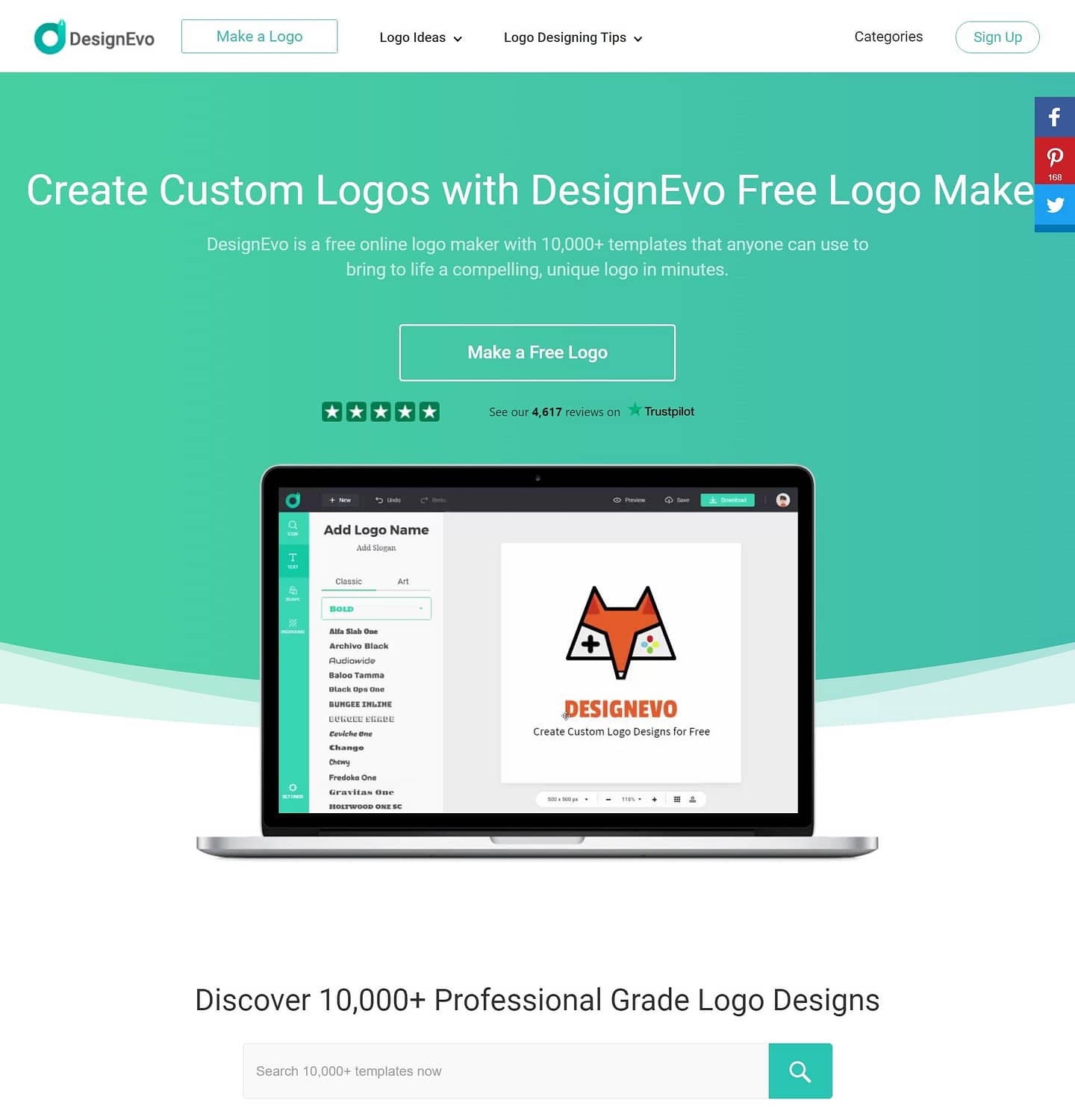 DesignEvo is an online logo maker that offers a wide range of templates, design tips, and ideas to help you create a professional-looking logo. The process is simple and easy to follow, and you can customize your logo to fit your brand. You can also download your logo in a variety of formats, making it easy to use on your website, business cards, and other marketing materials.
It is difficult to stand out among all the graphic design and logo makers available. I received a request to do a product review on Designevo. This is after I purchased one of their video editing tools 'Flexclip' – which is amazing by the way. Does Designevo meet the same quality standards that Flexclip provides? Let's find out.
Designevo is easy to use and there are over 10 thousand templates to choose from. You can also get design tips and ideas from the community. My initial impression is that this designer is very straight forward and minimal in regards to tools. This isn't a bad thing, because it has many of the tools required to create a nice design. This is what I liked about Designevo – easy to use, fast, and the result is awesome.
The tools included are many of the standards – drag and drop, resize, change color, change opacity, guide lines. I was able to easily create a design that I am considering to use for a flyer request that I have received. Where Designevo shines is the massive number of templates available and icons for selection. 10k templates, and millions of clipart icons to use – creating a design is now a 5 minute warmup exercise. The drag and drop design along with the simple interface makes the design process so simple. The clipart icons look professional. I feel like I've seen a few of them elsewhere, but there are so many and the ability to adjust them in color and size make up for it. There is a good selection of fonts. The preview function that inserts the logo into different potential uses is also a nice touch.
Two options that I found missing is the ability to 'group' elements to move them around together and to upload your own assets. Was the omission of these two items intentional? Grouping elements would require many assets on the canvas. Uploading your own assets (icons/fonts), can be a necessity but also complicates things. These features missing are not a big deal to me. It is obvious that Designevo was created with speed of development, from start to end product, in mind. Understanding the Designevo limits, I would either start with a heavier designer or export my design for use in another application.
Items that I would like to see include –
Ability to upload and organize assets – clipart, icons, fonts
Ability to group items to move around the canvas
Overall, Designevo is a nice addition to the toolbox. Suggested use is for content creators that don't want to spend a long time searching for designs or clipart icons.