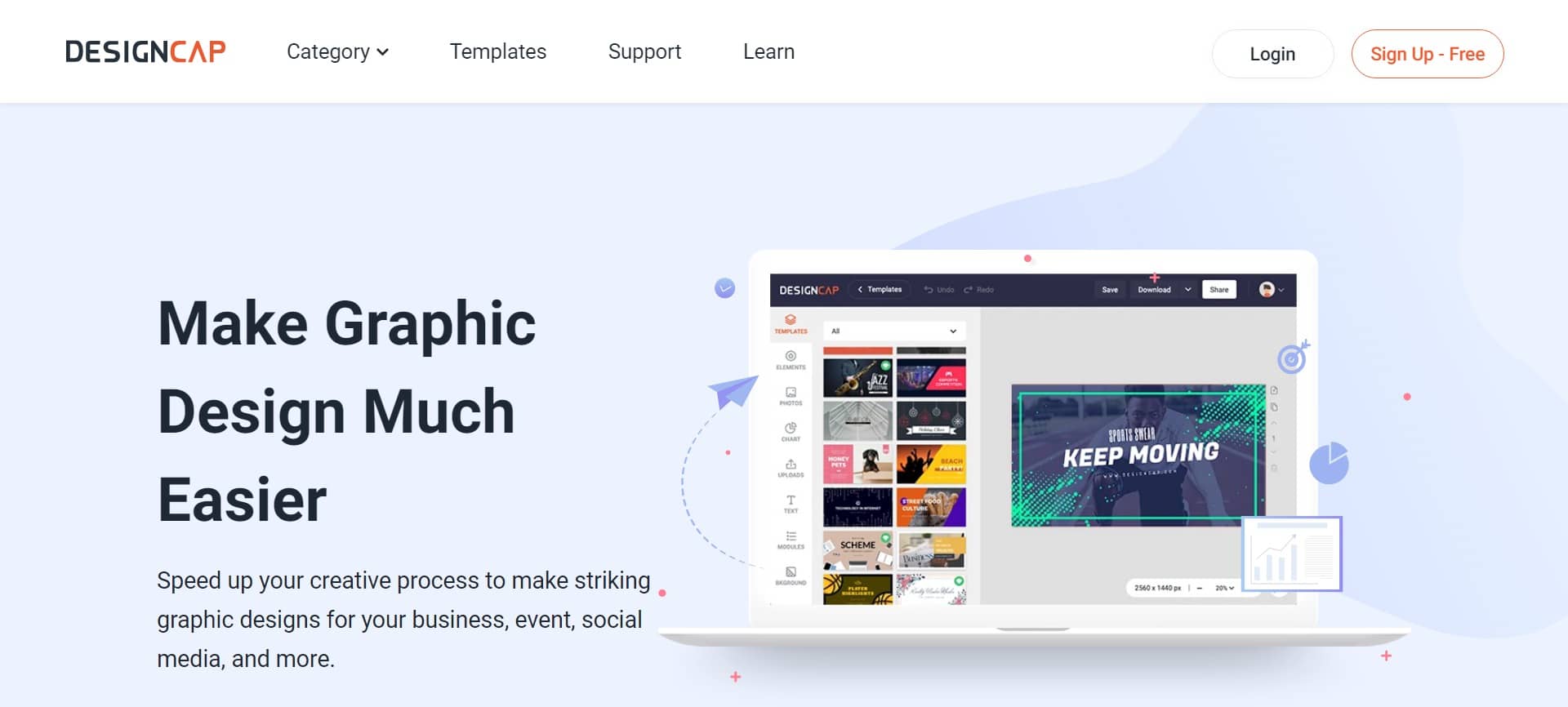 In this fast-paced and data-driven world, images are more important than ever. They can convey information in a way that words can't, and they can help your audience understand complex concepts quickly and easily.
That's why infographics have become so popular in recent years. They take complex data and present it in an easily digestible form, using images, graphs, and charts. And the best part is that you don't need to be a professional graphic designer to create them.
There are a number of online tools that make it easy to create stunning infographics. I was recently asked to review Designcap. Designcap is free to use, and it offers many templates and design options.
The creators of Designcap also created Flexiclip and DesignEvo. Which is easy to see because of the familiar user interface. Similar to Flexiclip and DesignEvo, the user interface of Designcap is very straightforward and easy to use.
The best benefit of Designcap is how easy it is to use. It's very intuitive, and it's very easy to make changes. Also it can be used on any device, as long as it has a web browser. With a few clicks you can create engaging, engaging and stunning infographics in minutes. You can choose from a variety of designs and layouts. Attached is an example that I created in under 30 minutes. Could it be better? Sure. Did I save a lot of time when creating it? Definitely!
There are many editors available. From feature packed and complicated to minimalistic. I would say Designcap fits somewhere just above minimalistic. Is this a bad thing? Not at all. We sometimes often graphic designers that are just starting out. Rather than having to learn a feature packed application – Designcap allows them to jump in and make something really nice without having to learn all the complicated stuff.
Many of the basics are there – layers, ability to upload, guide snapping/centering, a few photo filters, opacity. I didn't encounter any bugs. Everything worked as expected.
A few things I would like to see Designcap add are animations for the infographics, a visible snap grid, customizable blocks, sketch graphics, and more tools.
Animations are a great way to add some extra visual impact. For instance, I'm currently working on an infographic that introduces some basic points for a marketing funnel. I want to include an animation that highlights each section, but there are no resources to create the animation.
A visible snap grid is not required but would be nice for a visual confirmation of placement and lining items up.
Customizable blocks – Initially I thought Designcap may make for a quick way to create website design mockups. Designcap doesn't have all the features to use it for this purpose regularly. One feature required would be saving 'blocks' that can be reused in other designs.
Sketch graphics – well because they are cool. These are graphic elements that have a hand drawn look to them. 🙂
More tools – this is a tricky one. Would I like to see more features? Sure. Not at the cost of making the application complicated or slow. As I mentioned Designcap's primary feature is how quickly something can be made without being overly complicated.
Overall, Designcap is a great tool to make infographics quickly. We will continue to use Designcap when creating infographics for quickly getting the message out. When more detail is required, we will use one of our more feature packed graphic editors. Designcap can easily handle probably around 80% of our infographic design projects.