Get your mind blown with Context Minds!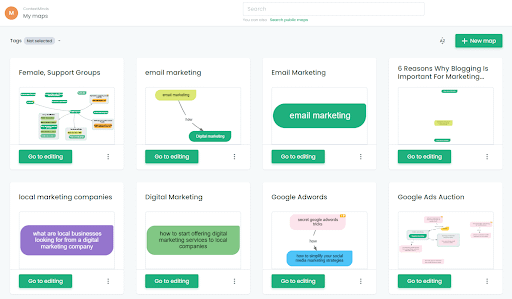 ContextMinds
is easy to use and navigate, which allows for simple and effective optimization. The platform gives you the tools you need to get the job done, without all the unnecessary bells and whistles.
It's great for businesses and individuals looking for a competitive edge. I was impressed with how the ContextMinds platform responded to certain question like:
"How can I put together the related keywords?"
"How do I drag this topic to my context maps?"
"How do I know that this is unique content?"
Simple question yet very important and you will be able get response within minutes. The level of detail and information provided is appreciated, thanks to the Context Minds team.
The platform offers a robust set of features that can help you optimize your website and increase your web traffic.
There are a lot of features that can help you improve your website and increase your web traffic.
The most popular features include the ability to create context maps and build powerful SEO-friendly landing pages. But you can also use the platform to generate long-tail keywords and find related keywords.
This is great for those who are new to the world of SEO, because it helps you to learn at your own pace without being overwhelmed or feeling like you're just guessing at things.
It's also great for those who have been doing SEO for some time, because it provides a convenient way to access the platform without having to log into a separate application or deal with a lengthy process.
What I love the most is you can search for public maps to even get more ideas that you can use to optimize your content. Say no more to writer's block and start writing like a pro!
In Contextminds, you can find and use over 350,000 distinct and unique maps, as well as create your own. And because the maps are kept up-to-date, you can always be certain that the best, most accurate map available is always at your fingertips.
Here are the features you can expect at the Context Minds platform:
SEO-friendly
content ideas in minutes.
Find the most relevant related keywords
Create a content map while you research
Your personal ideas library
Beat writer's block with AI
With those features, you can be sure that your concern will be taken care of. No need to get in trouble with your content by over-thinking it and for not being able to find the topic you need.
Give users what they're looking for
One tool to rule them all
ContextMinds is ready to brainstorm when you are
More than just keywords
And of course, you don't want to just focus on the good side but rather want to see what needs to be improved. So, I provide a variety of features to help you with that and collect other ideas.
One user from publishing says that "It isn't intuitive how to connect modes together in a concept map. But I know this is something that the developer is working on addressing."
Another user said that "Its user interface is not much attractive. I also cross-check this tool data with other authentic tools like google planner, semrush etc but there are many differences in keyword volume data."
And I know that the Contextminds is so simple and easy to use that even a beginner can use it, but it's not just that. It's not intuitive, it doesn't fit the workflow and connect modes.
But, to ensure the effectiveness of the product. It can be used in a free version too, to understand the platform much better. It will help you to know how the platform works, what are the benefits of the premium version and how you can use it to its full potential. It will also help you to save some money.
We can say that the free version of ContextMinds is enough to drive your website traffic, generate more leads and improve your search engine rankings. You can use the free version for a limited time and then upgrade to a premium version which will help you to save more time.
It will also provide you with a number of useful features such as the ability to create more than one concept map on one page, share your ideas with others, and more. You can use the premium version of the ContextMinds to get the full value of the platform.
Conclusion:
In conclusion, ContextMinds is a great platform that offers many useful tools for optimization. Although it has some areas that need improvement, the platform is overall easy to use and navigate. This makes it an effective tool for businesses of all sizes.
If you're ready for more you can appoint a free consultation and get ready to expand your business level. Check out our website for more information.