When your customers truly know & trust you, your business can increase sales productivity soon!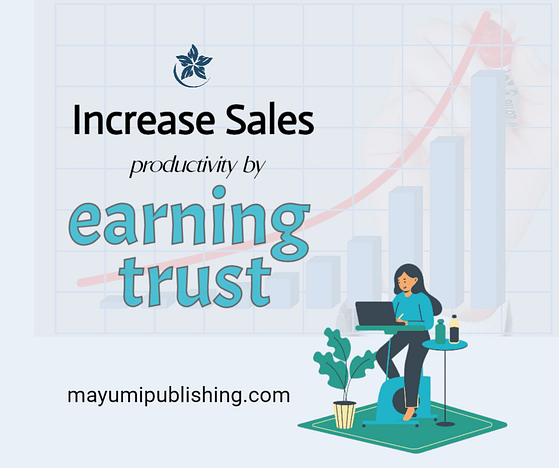 Building trust within your sales pages is the key to earning more sales. When users feel uneasy when they reach your page, there's a chance they'll bounce right back to Google.
But what if the user intent is also available on your page, then they're much more likely to click on your offer and move forward. This simple shift in perception builds a bridge of trust between you and your visitors, which in turn creates a much higher chance of converting them into clients.
According to Google, 53% of US consumers say that they research products using a search engine before deciding whether or not to buy
So considering your consumers, you have a lot of power to influence their decision. The best way to do this is by earning trust through the words you choose, the images you use, and the space you leave on your page for your offer.  Build a strong foundation of trust by consistently earning and building trust, and you'll be well on your way to higher sales productivity.
Earning trust is the key to increasing sales productivity.
To earn trust, you must consistently demonstrate that you're a credible source. This means that when you have the chance to add text to your page, you should choose to write about a topic that shows your expertise. This not only builds trust but also makes your page seem more credible.  
In addition, when you have the opportunity to add an image or two to your page, make sure that it's a high-quality image that helps to establish your credibility.
Customers won't buy from someone they don't trust
If you want to increase sales, customers won't buy from someone they don't trust. You have to be trustworthy, which involves more than being honest. It means being competent and having the ability to deliver on your promises. If you can show your potential customers that you're someone they can trust, you'll be much more likely to make a sale.
Building trust should be a top priority for salespeople/business
Salespeople are the lifeblood of any company that relies on customer relationships to generate revenue. Whether B2-B or B2C, sales representatives need to be trustworthy to succeed.
In today's business world, there is an increasing focus on transparency and accountability, so building trust should be a top priority for salespeople.
There are several things salespeople/companies can do to earn the trust
If you can answer questions confidently and show that you know what you're talking about, prospects will be more likely to trust your judgment.
To create trust is by being reliable and responsive to customer inquiries. If you say you will follow up with a customer, make sure you do it. Prompt responses show that you value your customers' time and business. And finally, keep your promises.
First, they need to be honest about what they're selling. A product or service's positive and negative aspects will help build trust between the salesperson and the customer. Customers appreciate it when salespeople are candid and tell them both the good and the bad.
Utilize the product or service page.
Before users make a purchase decision, they should be aware of the brand or product. Use the product or service page to provide information and context on the product or service. This information can include a sales pitch, a FAQ, testimonials, or any relevant information.
Second, they must keep their promises, whether following up after a meeting or delivering on a promised product or service.
Third, they need to be transparent in their communications, sharing both the good and the bad news with their clients.
Keep your marketing messages concise, as they will not remember them.

Do not make your tagline too long; it will not be noticed and not be appealing.

Use a catchy tagline that will appeal to your market.
Lastly, always being available to answer questions or concerns that a customer may have also gone a long way in building trust.
In conclusion, being trustworthy leads to increased sales. Consumers are more likely to make a purchase from a company or individual that they trust. In order to build trust, companies should focus on being transparent, delivering on promises, and providing excellent customer service. When customers trust a company, they are more likely to do business with them again in the future
If you're ready for more, you can check out various services that we offer. By the time you can take a free consultation – we're excited to hear about your business concern and get ready to grow in no time!
Here's other related article:
A Guide to Understanding Why What You're Doing Isn't Working
Re-targeting: It's Only Right to Provide More Value
Do not Gamble with Your Marketing Strategy