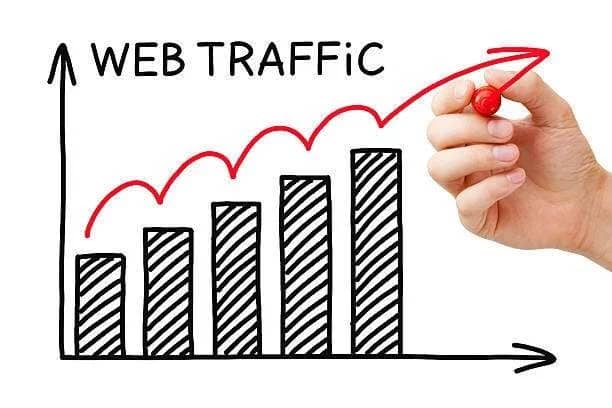 What Exactly Is Organic Traffic? 
The traffic to a website that arrives after a user searches for something and clicks on an organic search result is known as organic traffic (or organic search traffic). Pay-per-click (PPC) adverts on the results page are one source of sponsored traffic, often known as "paid search traffic," which is the flip side of organic search engine traffic . All search engine traffic can be classified as organic or paid. You may increase organic internet traffic by optimizing your site's content for search engine results pages (SERPs) (SEO). Websites can attract visitors in addition to organic and sponsored search traffic. 
Direct traffic : defined as traffic that originates from a single source, such as entering the domain name into the browser's search box
Referral traffic: traffic derived through hyperlinks on other websites.
Organic social traffic: traffic derived from unpaid posts on social media networks. 
Paid social traffic: traffic generated by paid posts on social media networks
When it comes to marketing, there's no shortage of challenges. But if you ask 61% of marketers their biggest challenge is, they'll all tell you the same thing: generating traffic and leads. 
It's not hard to understand why this is such a struggle; after all, generating high-quality leads requires a combination of great content and smart strategies. So when marketers find themselves with limited resources, it can be hard to get the job done. And yet, despite these obstacles, they still keep trying — even if that means pouring hours into SEO optimization or searching for potential customers on social media platforms. 
At the end of the day, one thing is clear: when it comes to marketing challenges, generating traffic and leads certainly takes the cake!
Here's the tips for Growing Your Audience and Increase Website Traffic
Optimize for your readers rather than search engines.

Blog on a regular basis. 

Participate in the blogosphere.

Use long-tail keywords. 

Prepare your meta. 

Use internal links to consistently develop high-quality content. 

Encourage inbound links. 

Make your own noise. 

Make use of social media.

To improve results, use data and metrics. 
1. Optimize for your readers rather than search engines.
First and foremost, create buyer personas so you know who your content is aimed at. You will automatically increase your SEO by providing great instructional material that connects with your prospective consumers. This entails focusing on your personas' core concerns and the terms they employ in search searches. Optimizing only for search engines is pointless; all you'll get is keyword-riddled gibberish. Please know your buyer personas, and the search engines will follow suit.
2.Blog on a regular basis.
Blogging is possibly the most effective strategy for increasing organic site traffic. It allows you to dig deeper than your website permits, and it generates a big collection of useful, persona-optimized material centered on your market niche. Poorly written, spammy, or inexpensive material, on the other hand, can do more harm than good. Stay away from it. 
3. Participate in the blogosphere. 
The blogosphere is a mutually beneficial environment. Read, comment on, and link to other people's websites and blogs, especially those in your industry, and they will hopefully read, comment on, and link to yours, drawing additional prospects. Quora is an excellent place to start. Spending time answering questions on Quora and offering actual, relevant, and concrete insights for the specific field you are an expert in is a great way to have your voice heard. 
4.Use long-tail keywords. 
Don't only use the most popular keywords in your industry. Use more precise keywords for your product or service. Over time, Google and other search engines will recognize your website or blog as a destination for that certain subject, boosting your content in search results and assisting your target consumers in finding you. This is how you establish yourself as a thought leader on the subject. Keep in mind that ranking on Google is about having a sphere of influence around a certain specialized issue. This blog article, for example, is intended for people seeking particular information on growing organic traffic. We are not focusing on every SEO-related term. 
5.Prepare your meta. 
An optimized web page or blog post must include the following three components: the meta title, URL, and description. It's straightforward but effective. In reality, although all on-page SEO variables are crucial, meta descriptions and meta data allow you to tell Google exactly what you're talking about. To optimize our sites, we employ a variety of tools, including the Yoast SEO plugin for WordPress, HubSpot's SEO tools, and Ahrefs. But simply installing a plugin isn't enough; you must work on each page individually. 
6. Use internal links to consistently develop high-quality content. 
Attempt to write and post as frequently as possible, but not at the expense of quality! The more quality material you have on your website or blog, including thought leadership articles and blog posts, the more possibilities you create for organic traffic to come your way. 
7. Encourage inbound links. 
Once you've amassed a substantial library of information, you may link to it in blogs and on your website, directing readers to additional related material. This can keep people on your website for extended periods of time, which benefits your search rankings. HubSpot refers to this approach as "topic clustering." We strongly advise you to view this brief video about topic clustering here. However, don't abuse internal links; too many will appear spammy. 
8. Make your own noise. 
Google prioritizes sites with a high number of incoming connections, particularly those from reliable sources. Encourage clients, friends, family members, partners, suppliers, industry experts, and helpful fellow bloggers to link to your website. The more incoming connections your site has, the higher it will rank since it becomes more authoritative in the eyes of search engines. However, be wary of SEO snake oil salespeople that try to fool Google with spammy links from low-quality sites. Some links might be potentially detrimental to your SEO.
9. Make use of social media. 
In addition, you can link to your own material on your personal blog, Facebook, Twitter, LinkedIn, StumbleUpon, and other sites—but not via spamming. When people come in via social media and spend time with your material, Google receives a strong signal that it is relevant, useful, and fascinating. 
10. To improve results, use data and metrics.
Create a presence on social networking sites such as LinkedIn, Twitter, Instagram, and Facebook. All of these actions contribute to the spread of your name and website URL on the internet. Concentrate on one or two platforms and perfect your strategy. Don't just repeat yourself four times. Make it simple for users to share your material by including social share buttons on your website and emails. and, of course, provide material that is worth sharing. 
In conclusion,organic website traffic growth is a long-term process that requires patience and dedication. If you're serious about growing your web traffic, don't be afraid to get creative and try out different methods. And if you're ever feeling overwhelmed or need a little help, remember to contact us and visit our website for assistance! So go ahead and give it a shot–you might just surprise yourself with the results! Good luck, and happy traffic-growing!