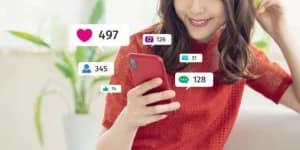 In an ideal world, you might use the well-known social network "Facebook" to tract thousands of visitors every day to your website without investing any money in pricey marketing techniques. A solid content marketing plan may have helped you achieve some success with organic Facebook traffic, but there may come a point when you want to take things further. You can't afford to overlook this traffic source when it comes to your marketing mix, with billions of daily active users, on average. 
The issue is that, even if you have infinite resources, it might be difficult to advertise on Facebook as a company owner or marketing team. Spending money and hoping for quality traffic and successful lead generation are only parts of this. If you don't know what you're doing, it's easy to spend thousands of dollars without getting anything in return. Many small company owners are unable to do this. Facebook encourages you to invest money in marketing and advertising initiatives. 
The industry leader in social media networks wants you to succeed. This explains why it offers so many marketing tools and the option to launch for as low as $5. The homepage for Facebook advertising provides a number of details, including advertiser flexibility and targeting. You select the demographics you wish to target with Facebook advertisements, and we show your ads to them in their news feed.
And it seems like Facebook's user numbers just keep growing and growing. 
The social media platform recently announced that it has a whopping 2.91 billion monthly active users, a 6.2% jump from 2021's already impressive 2.74 billion users–that was an increase of 12% from the previous year!But it doesn't end there: people are spending more time on the platform too, with daily active use having risen 20% in just one quarter alone! It looks like Facebook isn't slowing down anytime soon – no wonder they call it "The Social Network That Just Keeps Growing!
This increases the relevance of your ads for those who view them and produces actual results for you. There are various Facebook advertising solutions available for your small business to use when you need assistance as a business owner and for marketers that genuinely care about saving time and money. Let's examine these marketing tactics in more detail. 
Facebook Ads Manager 
Facebook Ads Manager App 
AdEspresso 
Hootsuite Ads
1.Facebook Ads Manager 
You have access to all the marketing resources required to build audience-specific advertising using Facebook Ads Manager. Although this is the most fundamental Facebook marketing technique, it still has much to offer. If you want to advertise your small business on Facebook, you should be familiar with how it works. Starting Facebook ads involves the following five steps: 
Use your existing Facebook page or create a new one.

Give details about what you wish to advertise. 

Select the right audience for your advertisement. 

Decide on a budget. 

Monitor your outcomes.
There is no getting around the fact that if you want to succeed with your advertising, you must completely grasp this particular instrument. Fortunately, Facebook makes getting started really simple.
2.Facebook Ads Manager App
Do you tend to use your smartphone or tablet more frequently than your PC these days? Globally, there are now billions of smartphone users, and this figure is only going up. Facebook understands this. Because of this, the business has committed a lot of resources to offering a top-notch mobile experience. However, the mobile experience is more than just updating your profile and chatting with other users. You can manage all of your marketing campaigns without a desktop computer by using its Ads Manager App. Marketing professionals may use the app to do the following: 
Monitor the effectiveness of the ads. 

Edit current advertisements.

Edit budgets and schedules. 

Make commercials. 

Gain access to push notifications. 
Imagine that when you are away from home, you find out that your Facebook advertising budget is exhausted. You don't need to go back to the office or get out your laptop as a business owner or social media manager to make adjustments. From a mobile device, you may make changes to your budget, getting your small business "back in the game" right away.
3.AdEspresso
On your social media account, have you ever utilized a confusing marketing tool? Although you are aware that it may be useful for your small business, you lack the necessary time, expertise, or understanding to put it to good use. AdEspresso, however, is the complete opposite. This is by far one of the easiest and most straightforward solutions for Facebook marketing and advertising. Starting takes only a few minutes, there is a little learning curve, and the benefits may be remarkable for your success in digital marketing.If you regularly read my blog, you already know that I love numbers. More data is better and increases the likelihood of generating high-quality leads. AdEspresso has a lot going for it, but the robust analytics features are what truly excite me. Among the characteristics are: 
Clearly presented visual statistics

For those who wish to go farther, there are detailed stats. 

Dashboards that may be customized allow you to target topperforming advertisements and focus on the metrics that are most important to you. 
Having trouble understanding how AdEspresso integrates with social media marketing? Do you worry that you won't be able to utilize the gadget properly? "AdEspresso Academy" is another excellent feature. You won't ever get lost or look for solutions with the diversity of training resources available to you at no charge. AdEspresso is the Facebook marketing tool that I would always recommend for everyone, from novices to seasoned pros.
4.Hootsuite Ads 
Hootsuite is undoubtedly one of the most well-known companies on social media, with millions of businesses and individuals utilizing the service to plan updates. Your Facebook advertising initiatives can advance thanks to Hootsuite Ads. There are a few things you need to know about Hootsuite Ads, the ideal option for anyone looking for a streamlined tool:
Ability to easily generate advertising with only two clicks

The program automatically searches your Facebook page and news feed for the most engaging content to share with your intended audience. 

Helping you create objectives for each advertisement will enable you to customize your marketing plan to get the best results. 

Advanced ad management capabilities that allow you to focus less on advertisements and more on growing your small business. So you can manage both paid and unpaid content from a single area.
In conclusion,the best advertising tools for small businesses can be hard to find. But with a little bit of research and testing, you too can create an incredible ad campaign that will help your small business stand out among the competition. Don't let yourself be overwhelmed by all the options out there – use this article as a starting point and get creative! After all, it's not what type of tool you use; it's how you use it. So, go forth and advertise! If you're interested in more information you go to our website and contact us anytime you want!